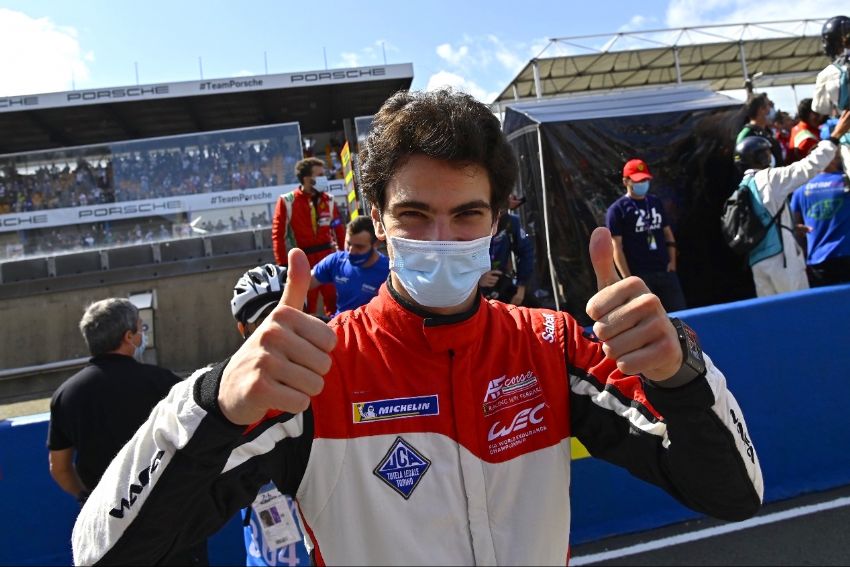 At the end of a "non-stop battle" that has always seen him fighting for first place, the Italian driver secured his third 2021 FIA WEC victory in GTE-AM at the legendary 24 Hours on the #83 AF Corse 488 GTE shared with Perrodo and Nielsen: "Crazy race, perfect strategy, I will never forget such an emotional first time!"
Alessio Rovera made his debut at the 24 Hours of Le Mans winning the fourth round of the 2021 FIA World Endurance Championship behind the wheel of #83 AF Corse Ferrari 488 GTE together with teammates François Perrodo and Nicklas Nielsen. It was a fantastic first experience for the 26-year-old Italian driver from Varese in the legendary race, celebrated on the top step of the GTE-AM podium at the end of a "non-stop battle" against some very competitive crews that has always seen the three AF Corse drivers fighting for first place. On the 13.6 kms of the Circuit de la Sarthe, Rovera drove for about 8 hours, getting into the car for the first time at the key moment on Saturday evening, driving from 21.00hrs to 1.00hrs at night, then again in the middle of the night towards dawn and for an early afternoon double stint before leaving the car to Nielsen, who brought it to the finish line at 16.00hrs on Sunday after a total of 340 laps and 25 pit-stops.
Thanks to their third win of the season (after Spa and Monza 6 Hours) now Rovera, Perrodo and Nielsen are leading the current GTE-AM standings.
Rovera said after Le Mans: "The race was crazy, with rain also. In my first night stint the track was really damp and I was on slicks. The car was difficult to drive but, yes, finally we won! A very emotional win because it's my first 24 Hours of Le Mans. To win the first one is something unbelievable. The team and the guys made a mega job, all the mechanics during the night, during the day... Strategy and car were perfect, so thanks everybody. Nicklas was flying, François run fantastic stints against very fast rivals, I am really, really happy and I will never forget such an emotional first time!".